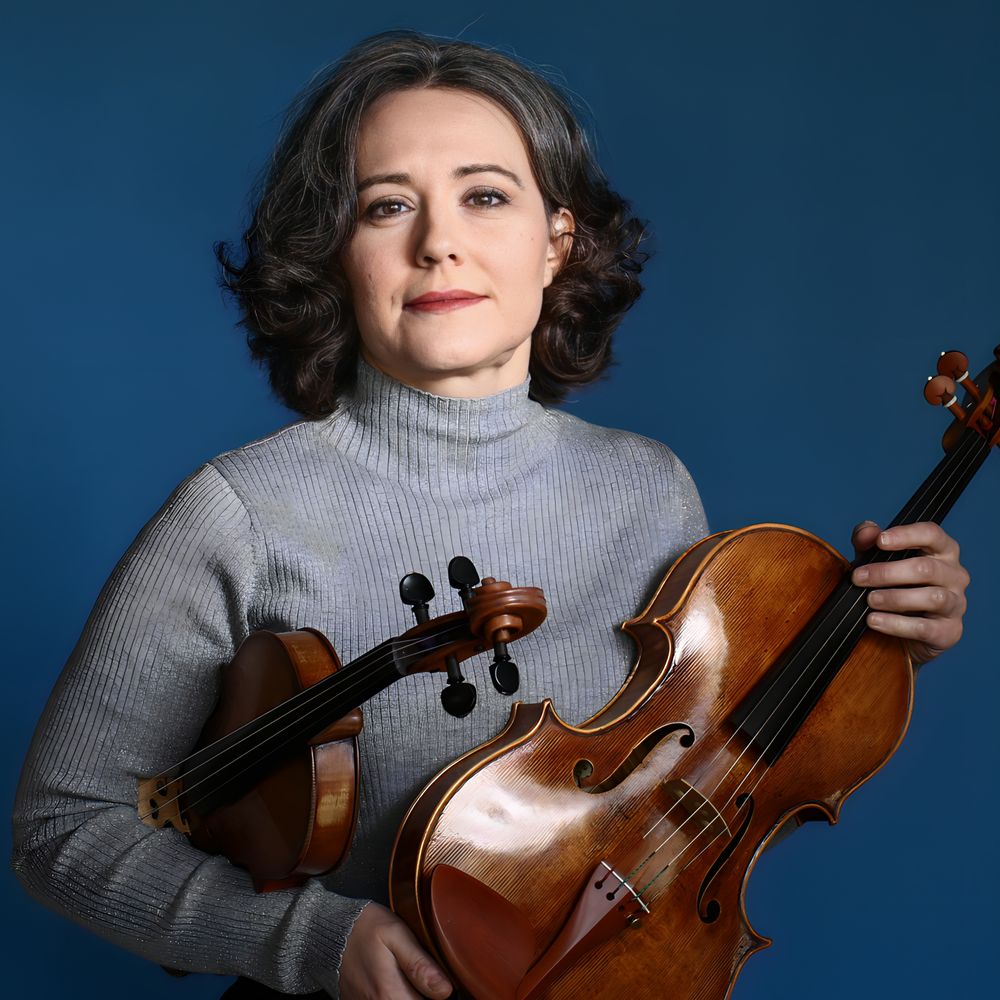 Judith Ingolfsson
"She is a truly outstanding player. Her effortless virtuosity is a tool in the service of the music; her tone is ravishingly beautiful, pure and adaptable, her sense of style is unerring, her expressiveness simple, direct, and strongly felt."
Biography
Violinist JUDITH INGOLFSSON is internationally recognized for her intense, commanding performances, uncompromising musical maturity and charismatic performance style. Based in both Baltimore and Berlin and enjoying a global career, she appears regularly as concerto soloist, chamber musician and, in recital, as half of the Duo Ingolfsson-Stoupel, founded with her husband, pianist Vladimir Stoupel, in 2006. The New York Times has characterized Ms. Ingolfsson's playing as producing "both fireworks and a singing tone," while Strings Magazine praised her tone as "gorgeous, intense, and variable, flawlessly pure and beautiful in every register."

Judith Ingolfsson made her first appearances on the international music scene as a prize winner of the celebrated International Violin Competition Premio Paganini in Genoa and the Concert Artist Guild Competition in New York City. Winning the Gold Medal of the 1998 International Violin Competition of Indianapolis provided her with the final breakthrough as an internationally sought-after artist. In 1999, National Public Radio's "Performance Today" named her "Debut Artist of the Year" for her "remarkable intelligence, musicality, and sense of insight."

Judith Ingolfsson has appeared on the concert stages of North and South America, Europe and Asia, performing with prestigious ensembles that include The Philadelphia Orchestra, Indianapolis, National and St. Louis symphony orchestras, Bollington Festival Orchestra (UK), Philharmonisches Staatsorchester Mainz, Brandenburgisches Staatsorchester Frankfurt-Oder, Budapest and Jena philharmonic orchestras and the Royal Chamber Orchestra of Tokyo. She was also heard as soloist with the Iceland Symphony Orchestra on its acclaimed 15-city 2000 North American tour, highlighted by performances at Carnegie Hall and The John F. Kennedy Center for the Performing Arts.

In recital, Judith Ingolfsson has been presented on many of the world's leading stages, among them: Carnegie Hall, Washington, DC's National Gallery of Art, Cleveland Museum of Art, La Jolla Chamber Music Society, Pro Arte Musicale of Puerto Rico, Konzerthaus Berlin, Reyjavík Arts Festival, La Asociación Nacional de Conciertos de Panamá, Macao Cultural Center, Tokyo Metropolitan Art Center. She is also an avid chamber musician, who has collaborated with the Avalon, Miami and Vogler string quartets and the Broyhill Chamber Ensemble, and has performed as a member of The Chamber Music Society of Lincoln Center Two, both on tour and at Lincoln Center for the Performing Arts. Ms. Ingolfsson is a welcome and frequent guest at international music festivals, having been invited to those in the United States, Finland, France, Germany, The Netherlands, Poland and Switzerland. In 2010, she was artist-in-residence in Villa Esche in Chemnitz, Germany.
A prolific recording artist, Judith Ingolfsson currently has 13 CDs available. Her debut album on Catalpa Classics won the 2001 Chamber Music America/WQXR Record Award, and her performance of Tchaikovsky' Violin Concerto with the Budapest Philharmonic Orchestra, available on BPO Live, was released in 2007. "En Hommage: Simon Laks" was issued on EDA in 2010; in 2011, the GENUIN label released her highly acclaimed recording of the Ysaÿe Solo Sonatas; her Brandenburgisches Staatsorchester Frankfurt recording of Joseph Holbrooke's Violin Concerto 'The Grasshopper' was released on CPO in 2016. With pianist Vladimir Stoupel, Ms. Ingolfsson recorded works of Stravinsky and Shostakovich for Audite, an album that received a 2013 ICMA nomination. In 2016, Accentus Music released a three-CD set titled "Concert-Centenaire," Duo Ingolfsson-Stoupel's exploration of French music written from the Belle Époque through World War I, with a special focus on composers whose lives were heavily impacted or even terminated by this calamitous conflict. The three recordings include scores by Louis Vierne, Alberic Magnard, Rudi Stephan and Gabriel Fauré. "Blues, Blanc, Rouge," with the sonatas of Ravel, Ferroud and Poulenc was issued in 2017, also on Accentus. The Duo's "La Belle Époque: Works by Eugène Ysaÿe, Théodore Dubois and César Franck," was released in 2019; Ms. Ingolfsson's newest album, "The Happiest Years," solo sonatas by Artur Schnabel and Eduard Erdmann, was issued in 2020 - both on GENUIN. Duo Ingolfsson-Stoupel's most recent recording, violin sonatas of Rathaus, Tiessen and Arma, was released in August 2021 on OEHMS Classics.

Born in Reykjavík, Iceland to an Icelandic father and Swiss mother, Judith Ingolfsson began her violin studies at the age of three and gave her first public performance on Icelandic State Television at age five. At eight, she recorded as soloist with the Iceland Symphony Orchestra for Icelandic State Radio and, a few weeks later, made her orchestra debut in Germany. Her family immigrated to the United States in 1980, and, at the age of 14, she was admitted to Philadelphia's famed Curtis Institute of Music, where she studied with Jascha Brodsky. Ms. Ingolfsson went on to earn her Master's Degree and Artist Diploma from the Cleveland Institute of Music as a student of David Cerone and Donald Weilerstein.

Currently, Judith Ingolfsson holds the position of Professor at Baltimore's Peabody Institute of The Johns Hopkins University. With her husband, the renowned pianist Vladimir Stoupel, she is co-artistic director of France's Festival and Academy "Aigues-Vives en Musiques" and Germany's Festival "The Last Rose of Summer" in Berlin. Together, they also curate a pair of concert series in Berlin - at the Institut Français and the Mendelssohn-Remise.
Judith Ingolfsson performs on a Lorenzo Guadagnini violin, crafted in 1750, and a viola created by Yair Hod Fainas.